This article provides instructions on how to install Refog Personal Monitor on a Windows based system. The content of this article is organized into the following sections:
System Requirements
For information about the system requirements please refer to the Refog Personal Monitor page: www.refog.com/pc-monitoring-software
Supported operating systems:
Downloading Refog Personal Monitor Software
Open internet browser and create your free Refog account here: login.refog.com
Enter your email and password and click Create an account.
You will be redirected to the download page.
Or you can find download page here: login.refog.com/download
NOTE: Physical access to the device is required for installation.
Select Personal Monitor for Windows and click Download.
Installing Refog Personal Monitor Software
Is there an installed antivirus software on the monitored computer?
Then you need to disable protection and file scanning temporarily if you want to download and install Refog. You can find more information here: How to install Refog if your system has antivirus
Unzip and run .exe file.
If ZIP archive have password protection, please use password refog123 to unpack installation file.
NOTE: Configuration of the program's invisibility mode is only possible during its installation. You will not be able to modify these settings afterwards.
By default, the program icon will be displayed in the Windows tray, letting the user know that the system is being monitored.
To hide this icon, check the Hide program icon in Windows tray box during installation.
You can link your PC to online dashboard during installation.
Enter the login and password to your profile, read and accept the service's terms of use, and press the Activate button.
On the last step you need to enter Windows account password and select installation folder.
NOTE: All user data are stored in program folder.
In most cases Refog app will run automatically after installation.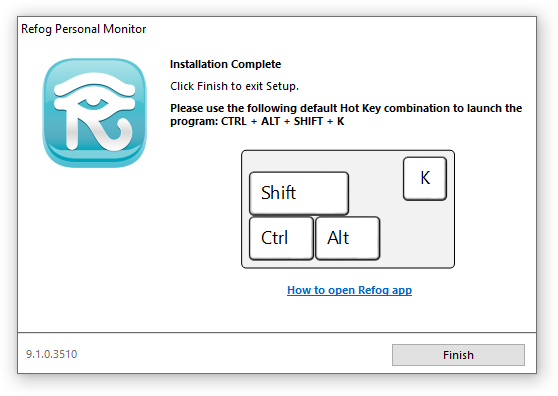 But if you need to reboot your PC please use the following default Hot Key combination to launch the program after reboot: CTRL + ALT + SHIFT + K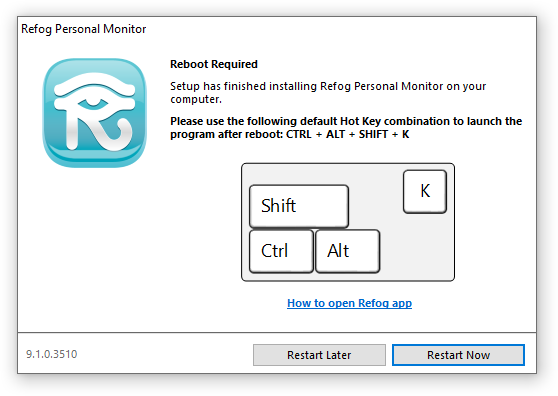 Now you can activate your key in Help -> Enter the license key... menu option.
Here is a tutorial how to activate online dashboard after installation: Refog Online Dashboard
Potential Errors and Solutions
If you have any problems with Refog Personal Monitor, please contact our technical support service.